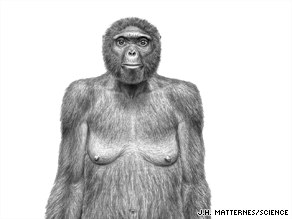 The hominid line has been pushed back to some 4 million years.
According to
CNN
:
Ardipithecus ramidus, nicknamed "Ardi," is a hominid species that lived 4.4 million years ago in what is now Aramis, Ethiopia. That makes Ardi more than a million years older than the celebrated Lucy, the partial ape-human skeleton found in Africa in 1974.

One of the findings that surprised me is that she was less of a tree climber than chimpanzees, bonobos, and orangutans, and was more of a true omnivore.
Many scientists hypothesize that humans took a different evolutionary
trajectory from those of chimpanzees, bonobos and gorillas. Ardi's
findings help challenge earlier beliefs that humans evolved from
chimpanzees, their closest genetic relatives, scientists say.

That should make the Inherit the Wind crowd happy.  Of course, no one ever really claimed that humans evolved from chimpanzees.  The story all along has been only that we shared a common ancestor. But it's not Ardi; at 4.4 million years old, she's little more than halfway back to the 8 million year old divide between us and apes.