This CNN story illustrates why I like Obama:

OBAMA RETAKES OATH OF OFFICE AFTER ROBERTS' MISTAKE
.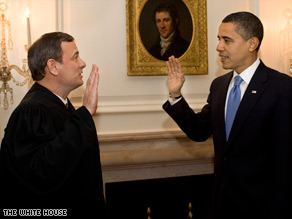 Can you doubt for a second that W's response would have been "I don't need to re-take the oath because I know I'm president?"
Obama was sure, but took the oath again, anyway.  Maybe it wasn't necessary, but it didn't hurt, either.  Better to be sure, better to ensure that all the t's are crossed and the is dotted, than to push ahead in blind arrogance.
Ahh.  We have a good president.